Isthmus Cove Two Harbors
Boating Knowledge
California Southern California Catalina North America United States
Overview
Isthmus Cove Two Harbors is a mooring field located at 33.442527 N, -118.495755 W. Vessels can find protection during most prevailing conditions, but not storms. There are 0 slips and 257 mooring buoys available. Berthing costs are estimated to be seasonal mooring rates. Diesel fuel and gasoline are available, unless otherwise noted.
Today's Wind Forecast
loading wind forecast...
Experiences
shared over 5 years ago
---
Mooring
 On our first trip to  Two Harbors,  we hailed harbor patrol on channel 9 on our way in, and they assigned us a mooring. Because it was our first time mooring, they showed us to the location and made sure we tied up without any issues. If you would rather anchor, free anchorage is  available about 100 yards from the moored boats.
Here is a link the Catalina's page on how to use their moorings complete with a diagram. This was helpful for us on our first visit. http://www.visitcatalinaisland.com/camping-boating/two-harbors-boating/mooring-information
Amenities
Shore boats are available to shuttle you from your mooring or anchorage to shore.  During our visit in 2013, the cost was $3.00 each way. There is a dinghy dock that gets pretty crowded at peak season, but it's manageable.
Fuel is available here and quarter operated showers and laundry are available  ashore. There is a quarter machine outside of the shower facility. Essential provisions and souvenirs  are available at the small general store.
Activities
Overall, we enjoy this spot more than Avalon. We like that it's a little more rustic,  and there are fewer tourists. Hiking/walking/biking trails are abundant with great views of the various coves. All kinds of recreational rentals are available. The water is clear and the bright orange garibaldi are easy to spot.  The only restaurant on shore is great for the obligatory Buffalo Milk, but I wouldn't recommend it for much more.

This is a convenient destination for sailing with crew of the four-legged variety. We found it easy to get our dog to shore, and the path to Cat Harbor and back was a nice distance for his morning and evening walks.
Our second visit to Two Harbors was a quick and chilly overnight stay in mid October. The moorings were discounted for the off season, and only a few boats were moored in the cove. 
We have a full blog post on this trip  here http://wavetothewind.com/catalina-two-harbors/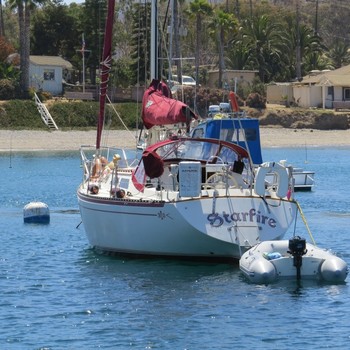 ---
Nearby Anchorages
Key Stats
Mooring Field

Lat: 33.442527° N
Long: -118.495755° W
Slips: 0
Moorings: 257
Fuel Avaliable: Yes
Weather